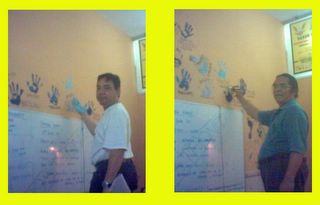 Two of our Licensed call sign holders, to add to our Wall Of Shame, as 9W2XYZ puts it.
Seen here are 9M2RT-Razif and 9W2AC-Zol leaving their mark.
40Thieves apologises to those who have had added their mark but do not have their photos posted. Sorrryla bro, someimes, cameraman ada, tapi camera tak ada.........sometimes Camera ada, cameraman ada, tapi, battery tak ada....Hi Hi.
We encourage all visitors to leave their mark.
If in place and no one around, simply ask for staff assistance, your marking is most welcomed.
Keep on Marking....73s