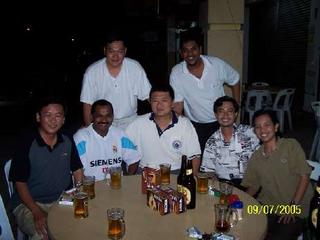 One for the 40Thieves Album
LtoR(sitting);9W2JAS-Jason;9W2TSK-Kumar;9W2LRR-Raymond;9W2PAT-Patrick; 9W2JAC-Jackie
(Standing)9W2MCT-Tony;SWL BOB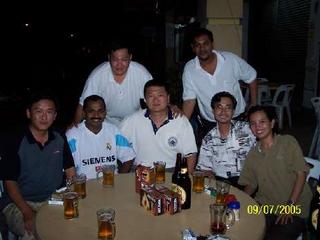 Lets make sure, after all KL-Ali Baba is 385kms away......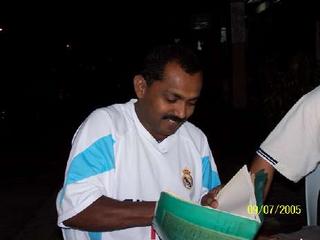 9W2TSK-Kumar, you know ah.....I have been supporting MARTS since.....
.and this one ah....even money cannot buy woh.... (find out more in our next update)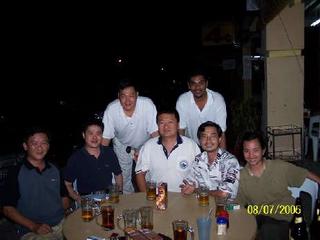 One More for the 40Thieves Album
LtoR(sitting);9W2JAS-Jason;SWLMeng;9W2LRR-Raymond;9W2PAT-Patrick;9W2JAC-Jackie
(Standing)9W2MCT-Tony;SWL BOB
8th June 2005 - 40Thieves Makes Eyeball contact with JHB
An unforgettable, but most definitely enjoyable eyeball!! On my way to attend to some saltmine matters with SWL Bob (would be 9W2), we got back from V1 land, giving 9W2LRR some 4 hours to gather the posse for an Eyeball in Permas Jaya, Johor Bharu.
As we were 'naked'(Riglesslah….kereta tidak ada RIG), we couldn't communicate via RF, but help came in the form of the mobile phone. Meeting up with Raymond-9W2LRR was no problem, he led us to the drinking hole, from our RV point at Jusco Permas Jaya.
Not knowing anyone else, (haven't eyeballed many stations from Johor Bharu), we quickly stated our intentions, and gave the usual '2 only' warning!
Before long, 9W2PAT-Patrick (ex 9W2XJ), and 9W2JAC-Jackie(ex9W2JX) arrived and formalities were exchanged. A few words, exchanged, and then 9W2JAS-Jason, and friend (would be SWL- hopefully) Meng popped in. Syabas to JASON for scoring some 10 months ago…..sudah ada harmonics…..
The evening carried on and before long, it was already running past 1 am, and well past the '2 only story'.
The eyeball was certainly a milestone, as we agreed in part, to help eachother connect through Echolink, and set up a 'would e National Connection – Central, South, North, East, and East-East….Sabah & Sarawak lah…'
But what was most interesting was meeting up with the last station that showed, up, exactly 8minutes 46 seconds, after receiving an Eyeball invitation from Raymond, yes, stand up, 9W2TSK-Kumar, he popped in all ready. This is a story of . . . . .a longtime MARTS supporter…..We intend to tell the story, but lets keep this here for now. We will post up his story, and hopefully, those who can relate to it will be able to blog it.
73's for now, and if you do recognize this guys (photo's enclosed), do check in as we are targeting a Central – South hook up on the 22nd Jul , 2130Hrs for the South Region 2mNet.
QSP 73s from 9W2PAT&9W2JAC to the following – 9M2SQ-Suresh, 9M2DS-Pak Dollah, 9W2XI-Wilson, 9W2AA-Jit and all those who know them.
73's
9W2MCT